Spica Telescope Kit
Easy-to-assemble telescope kit
in collaboration with the IYA 2009 Galileoscope Project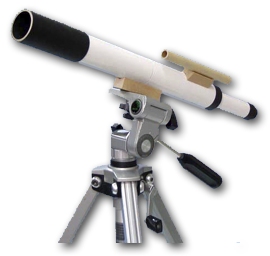 Designed for ages of 9 years and up, model Spica is for the young and elder alike. Put your own telescope kit together as the Italian astronomer Galileo Galilei did 400 years ago.
Enjoy observing the craters of the Moon after merely one hour of hand-crafting with no special tools, just some glue, Scotch tape and a pair of scissors. Spica is the most inexpensive telescope with which you can see the rings of Saturn!
Spica sports an achromatic primary lens which reduces chromatic abberation and is threaded for a standard photo or video tripod.
All parts are
manufactured in Japan
. Using cardboard for the optical tube and minimum packaging of mostly recyclable materials, Spica is designed and manufactured with the
environment in mind
. Over the last 25 years, Spica has been adopted by schools, science museums and the National Astronomical Observatory of Japan with standing ovations for its performance.
It's easy as 1-2-3 and, moreover, joyful fun. Celebrate the International Year of Astronomy with your children, family and friends.
Optical Path of a Keplerian Scope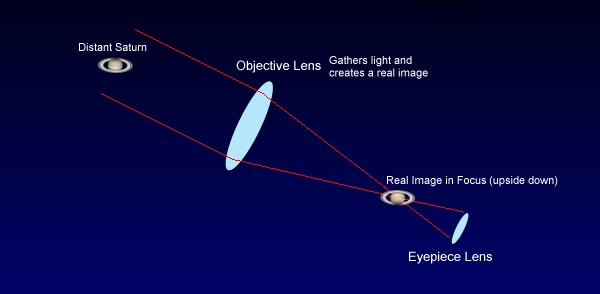 Specifications of Model Spica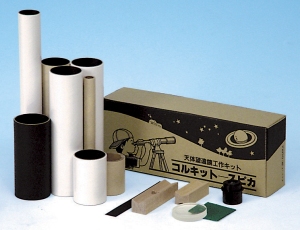 The kit includes all parts for assembling the optical tube with glue (not included). No special tools required.
Doublet achromatic glass objective lens
Aperture: 40mm
Focal length: 420mm
Eyepiece AH 12mm, doublet + 1,
3-element plastic lens,
magnification 35x
Apparent field of view: 48°
Pipes of stable cardboard tubes
Wood block with metal thread for tripod
Net weight: 210g
Selling price: JPY 2,500 plus shipping

Assembly Instructions
Currently available in English, French, Italian, Spanish and Japanese.
Further languages in preparation and upon request.
Important
Never point Spica or any kind of optical instrument at the Sun. Solar system objects can get close to the Sun. Observers are warned to be wary of observing any object near the Sun. Instant blindness will be the most probable result. Never leave children and inexperienced observers unattended.
Wow, I Can See It!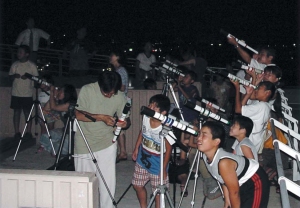 The craters of the Moon
The Galilean moons of Jupiter
The ring of Saturn
The phases of Venus
Designed for Popular Sky Objects
The relatively narrow field is an initial hurdle for sky navigation, however, after some practice with Spica's simple finder, children will be rewarded with the abililty of observing the major planets, Venus with its phases, Jupiter with its four major moons, and, in particular, Saturn with its majestic ring, while the Moon comes up to a size which reveals its major craters. Spica's field of view fully encompasses the Pleiades star cluster. Unfortunately, Saturn's ring is closing in 2009.
With the given magnification of 35x and a 1.4°
true field of view
, all bright objects listed above are clearly visible even under city lights. Please use a sturdy tripod for maximum observation experience. Minimum possible magnification eliminates need for an accurate finder scope.
Larger Quantities for Class Rooms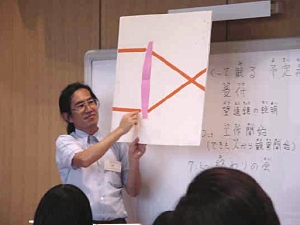 We offer a special pricing system for class room quantities. Model Spica is ideal for use at home, after school programs, outreach programs in planetariums, all the way up to science & nature centers.
Spica can be completely assembled within an hour and is then ready for first-light, such as the craters of the Moon stimulating the sense of wonders. The length of the optical tube is optimized for children who will experience pride and satisfaction in having created something of 'heavenly' value - and by themselves.
Observation record by 11ys old young student
with SpicaTelescope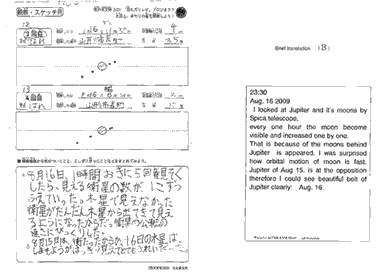 brief_translation.pdf (2pages)
Simple Joyful Instructive
"
Simple Joyful Instructive
" Poster presented: Innovation in Teaching /Learning Astronomy Method, 26th meeting of the IAU Special Session 2006 Praha
Method of the workshope with Spica Kits: Full text of Article available at
Smithsonian/NASA Astrophysics Data System.
SAO/NASA Astrophysics Data System (ADS)

abstract at
google scholar

Research:

improvement of the learning
Spica Galileo SET